Test your cable Simple and Fast.
Only 3 simple steps
Connect Up Wires
Learn Connection
Start Testing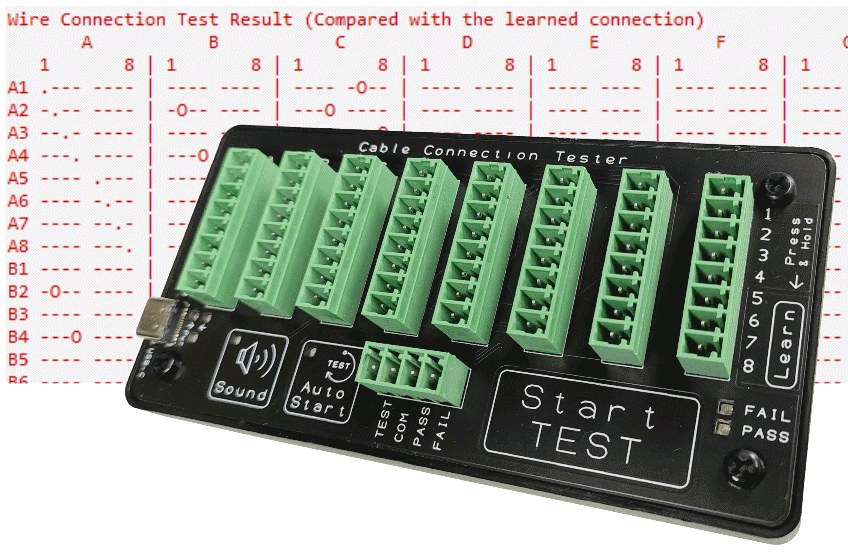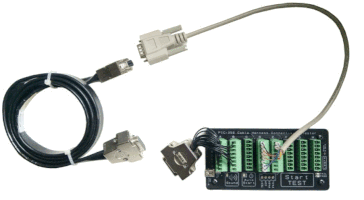 CCT-01 is a universal cable connection tester suitable for any types of cable or complex wiring.
Don't waste your time, tedious checking of your cable one pin at a time.
No need to dig out your cable wiring documentation.
Everything you need to make your work easier is all in this affordable productive tester tool.
Instant test result
with a touch of a button.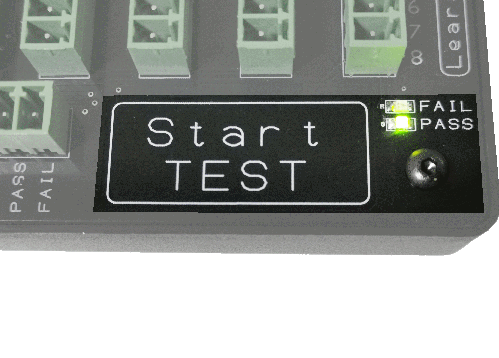 ---
---
Features

Help you test your cable instantly.
Generate a connection test report of your cable.
Capable of standalone operation.
Reveal the complex connection of an unknown cable.
Catch simple intermittent faults on the cable.
---
Simple Setup
Simple user interface. You do not need a user manual.
Many customers told us that they wanted a cable tester that can store all their cable connection profiles inside the tester. We had had custom designed this feature before and realised that the operator finds the tester more complicated to use. They had to select from a large list of cable profiles, to load and start testing their cable. While it seems a nice feature to have, it increases the cost significantly and also makes the tester much more complicated to use.
We started to have this idea of having this tester tool to be very simple and intuitive to use. The operator don't need to remember anything. Unlike most testers on the market where there is port A and B for each cable end to connect to. For CCT-01 cable tester, you simply need to terminate any wire ends to one of the 64 terminal points on the connectors.
The cable testing procedure remains same regardless of the types of cable that the operators are testing.
Easy and fast to set up.
You can test your cable right away.
Use screw terminal plug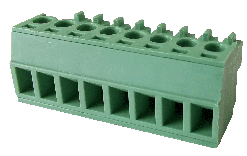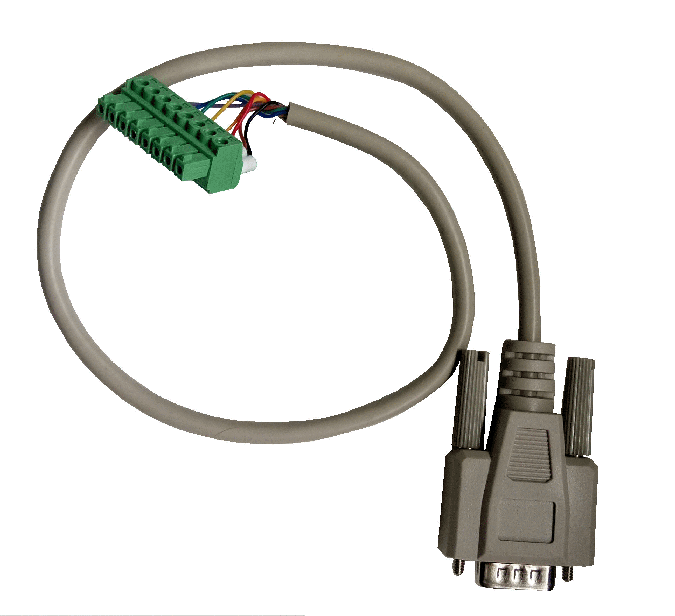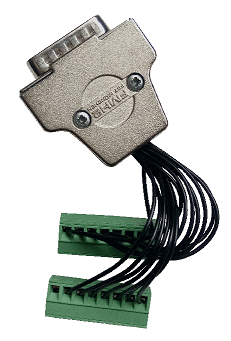 Using only the 3.81mm Screw Terminal Plug, you can set up your own adapter for any type of connector on your cable.
A wire cutter/stripper and a small 2mm Phillips head screwdriver are all the tools that you will need.
Prepare a mating connector for your cable and secure each connection point to any of the terminals on the screw terminal plug.
Click here for more connection setup illustration.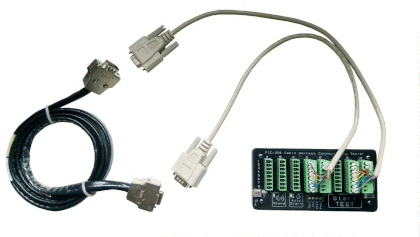 Ways you can power up this cable tester from
Standalone
---
USB Power Source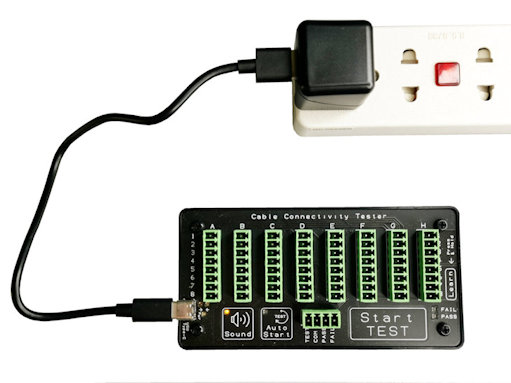 Portable Power Bank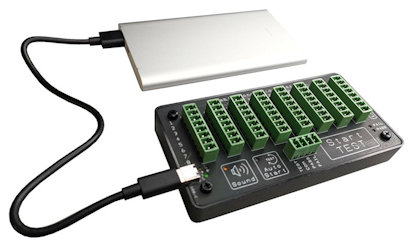 Operates with Computer Devices
---
Computer System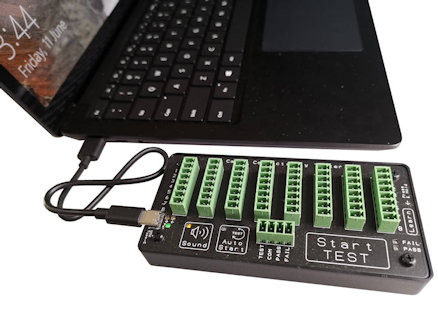 Portable Mobile Phone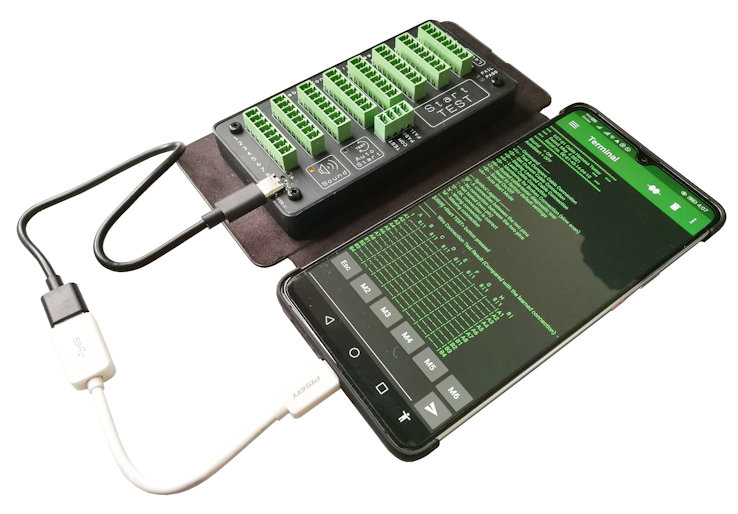 ---
Operating Instruction
3 simple operating steps
Connect up the cable's wire points.
Learn the connection from a good master cable.
Start testing the rest of your production cables.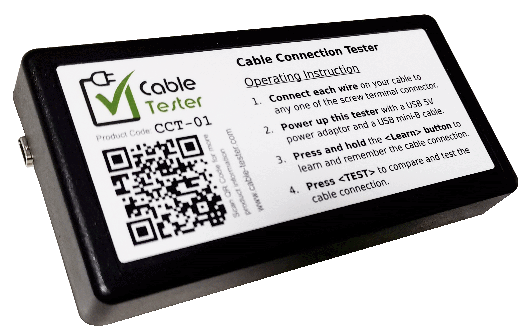 The learned cable connection will be retain inside the device's memory even when the power is removed from the CCT-01 cable tester. You no longer requires your master cable once the connection is learned.
Scan this QR code to bring you back here for further help and support.
Everything that you want to know can be found on this product page.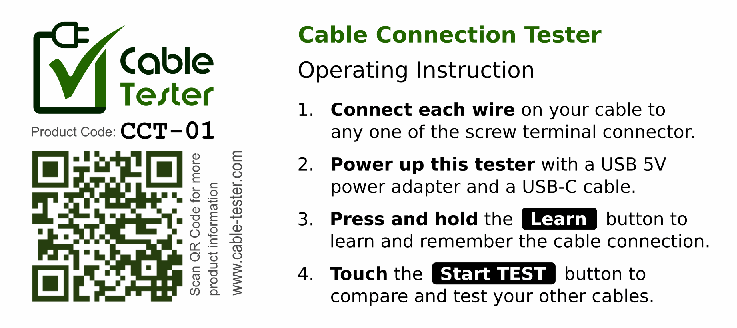 Video Demonstration
Watch a video demonstration of this cable tester.
More Advance Operation
---
Generate Test Report
---
Advance Setup
You can use CCT-01 cable tester in a more productive manner with these advanced setup.
Interfacing External Control & Indicator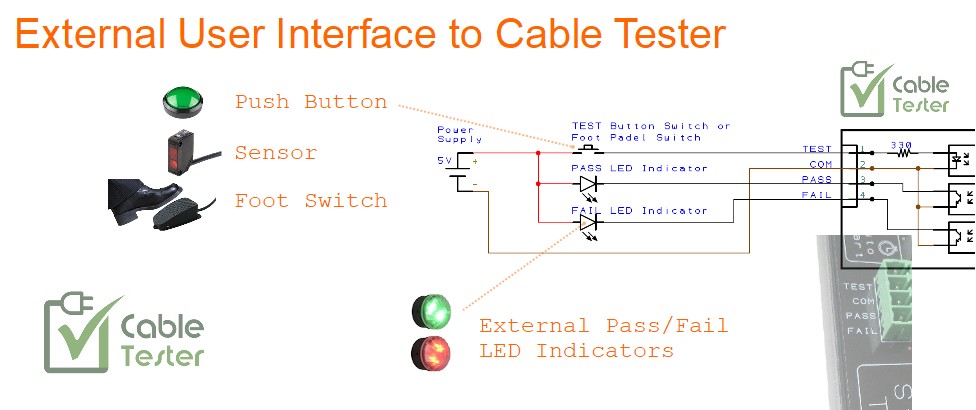 Custom adapter
For customers who preferred a solid and firm setup, you can choose to customised an adapter for your cable testing.
We provide design services to produce custom adapters for unique connectors on your cable. You can also Do-It-Yourself design your own adapter with the layout dimension that we have provided inside this section.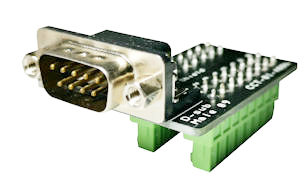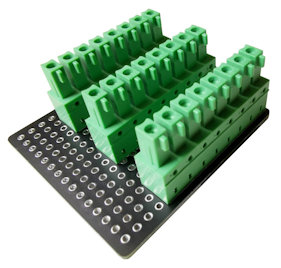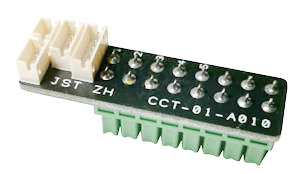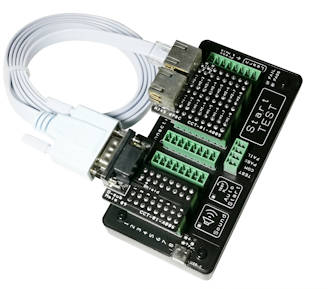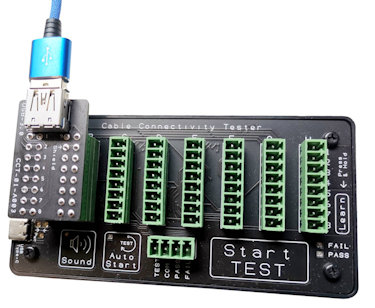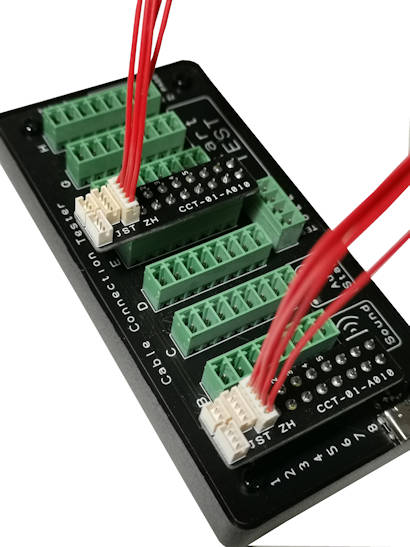 Click here for more custom-made connector adapter for CCT-01 Cable Connection Tester.
---
Testimonials from our customers
---
Buy Cable Tester
Package Items
What is included in your standard CCT-01 Cable Connection Tester product package?
1x Cable Tester tool
1x USB-C cable
1x Terminal Plug (4p)
8x Terminal Plug (8p)
Click here for more product shipment packaging information.
Click on "Buy now" to buy 1 set.
For multiple sets orders, or purchases with other accessories, click on "Add to cart" instead.
Bulk Purchase Offer !!!
10% discount will be applied with the purchases of 10 sets or more.
Or you can visit our online store page to purchase your CCT-01 Cable Tester, by clicking on this link here.
—> https://www.cable-tester.com/buy-cable-connection-tester-accessories/ <—
Popular Accessories
Add cable tester accessories to your shopping cart.