Test your cable Simple and Fast.
Only 3 simple steps
Connect Up Wires
Learn Connection
Start Testing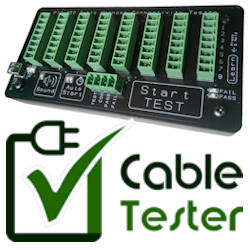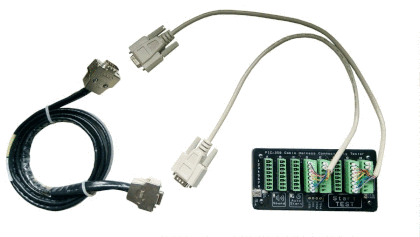 CCT-01 is a universal cable connectivity tester suitable for any type of cables or complex wiring connection.
Forget about using your typical continuity tester.
Forget about testing the pin on your connectors one by one.
Forget about looking at your cable wiring documentation.
Everything you need to make your engineering work easier is all in this one single affordable tester tools.
Click and get your tool here.
Instant test result
with a touch of a button.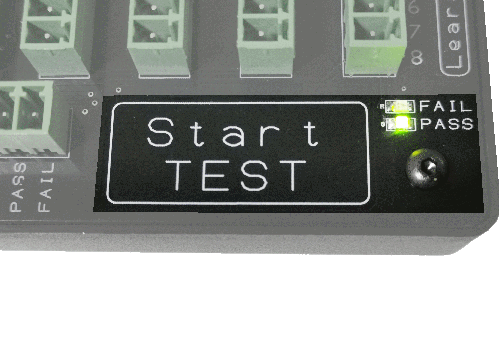 ---
Features
One touch pass/fail cable wiring connection test.
Capable of standalone operation.
Generate Test Report from your computer.
Reveal a new or unknown cable wiring connection.
Catch simple intermittent fault on the cable.
Auto-start cable test operation mode.
Pass/Fail light indicator.
Beep sound indicator.
Small size, light weight.
Operates from USB power source (5V).
Portable (can be powered from a battery power bank).
? Click here for more detailed technical specification of this product CCT-01.
---
Simple Setup
This tester is able to test any type of cable wiring connection. It is designed as a universal tester for any types of complex wiring connection.
You do not need special tools or fixture to setup for the test. Simple common tools like a wire cutter/stripper, and a small phillips head screw driver are all that you will need.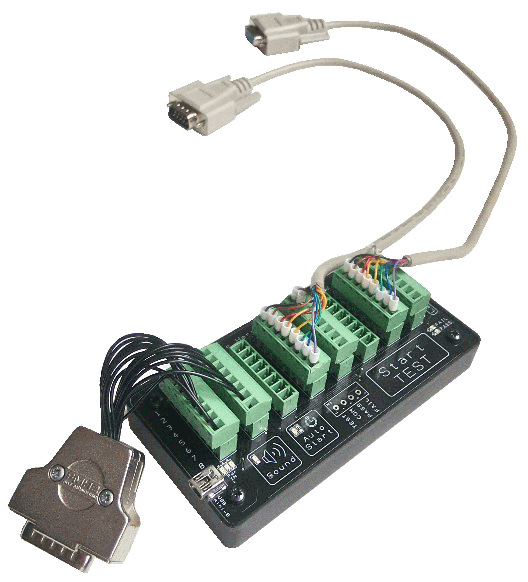 You can simply buy a ready made mating connector cable. Cut off one end of the cable and connect each wiring to any of the slot on the green terminal plug.

Or create your own special mating connector adapter.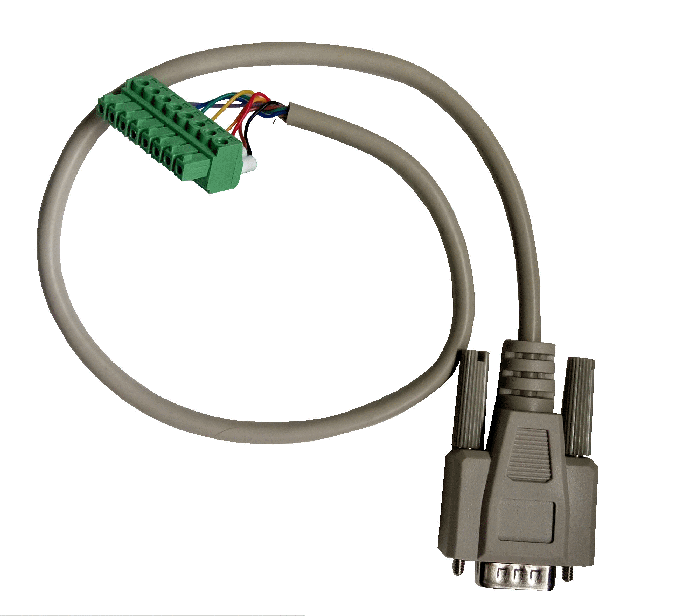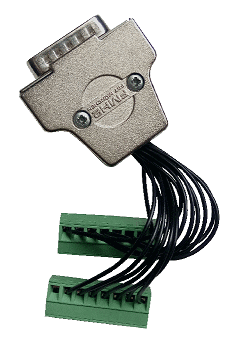 You can purchase more of this plug to build your own library of mating connector adapters.
This green pluggable terminal socket (8pos 3.81mm pitch) accessory is easily available. You can also order more from our online store.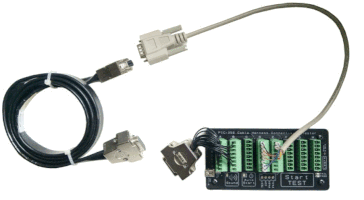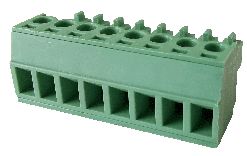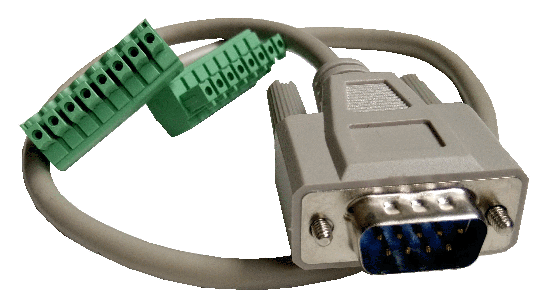 ? Click here for more cable connection setup examples and illustration.
---
Operating Instruction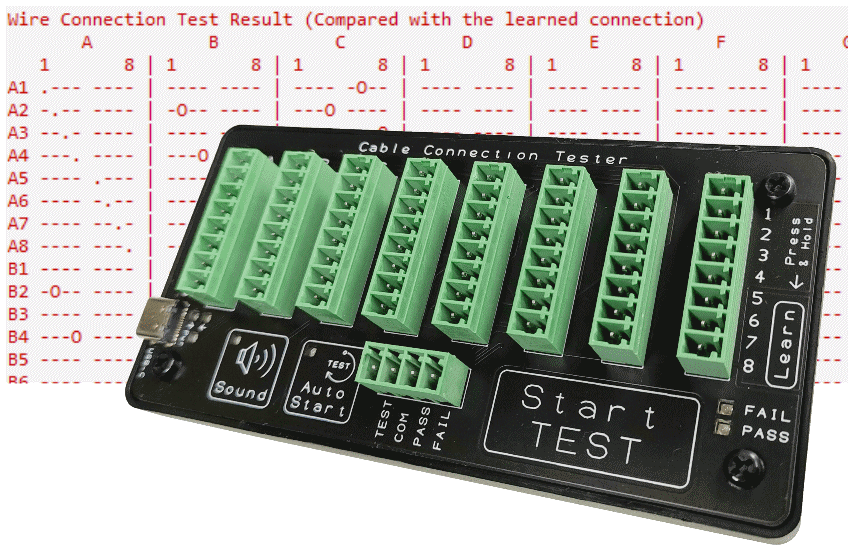 3 simple operating steps
Connect up the cable's wire points.
Learn the connection from a good master cable.
Start testing the rest of your production cables.
The operating instruction can also be found at the back of the device.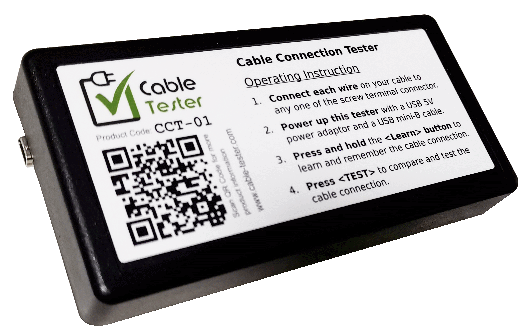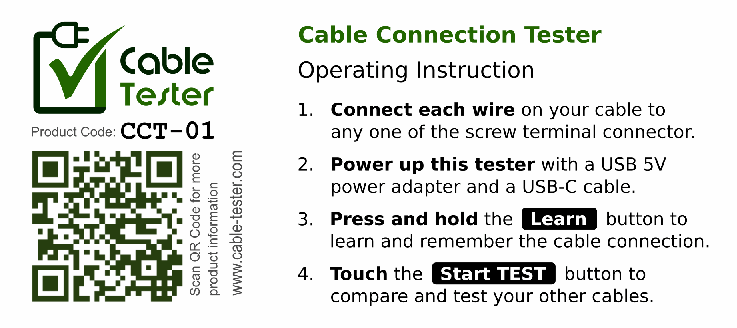 You can scan this QR code to bring you back to this page if you need further help or information.
You will never need to worry about misplacing of your user manual.
? Watch a video demonstration of this cable tester.
? Click here for a detailed instruction operating this product CCT-01 Cable Connectivity Tester.
? 4 ways to power up CCT-01 Cable Tester
Advance Operating Instruction
The following are advance features that are not often in use.
? Click here to learn how to detect for possible cable intermittent connection fault using CCT-01 Cable Tester.
? Verify your CCT-01 Cable Tester hardware working condition with this manual self diagnostic check.
? Procedure to restore your CCT-01 Cable Tester to factory default settings.
---
Generate Test Report
CCT-01 cable tester can generate a test report (as shown below) of the cable. This feature provides you with more details for those cables that fail the test. You can see connection that are correct, and those which are connected wrongly or missing a connection.
You can mapped out the entire connection of an undocumented cable instantly. Documentation process of the cable is much more convenient, and less prone to human error.

If you want the report, you will have connect the USB connection from the CCT-01 tester to your computer system. Use a terminal program to connect to this CCT-01 cable tester.
? Click here to check the instruction guide for setting up the software to display your report.
---
Interfacing External Control & Indicator
You can connect and interface external foot switch, external alert indicator, controller or machine to this tester to support your testing operation. Check out the following link to explore how you can connect this tester to support your testing operation.
? Click here for advance setup and interfacing with the cable tester CCT-01.
---
Testimonials from our customers
Check out what some of our customers say about our products and services.
You can also get to learn how they are using this product for their business operation.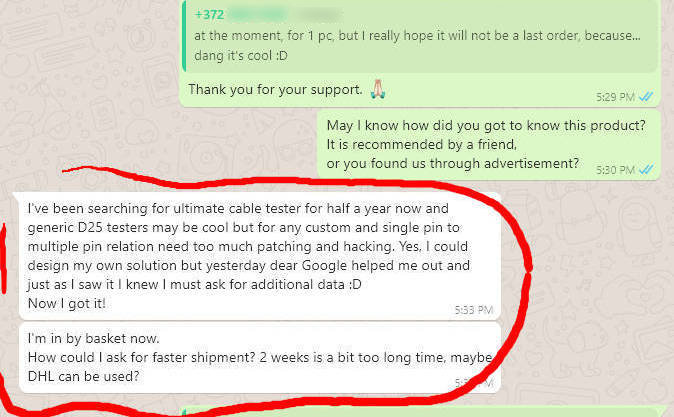 ---
Package Items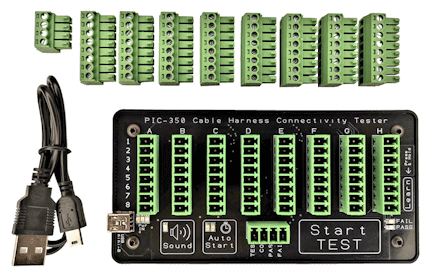 What is included in the package?
1x Cable Connectivity Tester Device
1x USB Type A to Mini-B wire (about 500mm)
1x Pluggable Screw Terminal Plug (4p , 3.81mm pitch)
8x Pluggable Screw Terminal Plug (8p, 3.81mm pitch)
---
Optional Accessories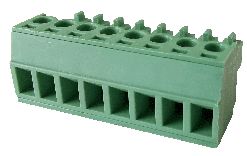 Spare Plug
Permanent plug wired for your frequent use connectors so that you do not need to screw/unscrew often when testing other ad-hoc cables. Buy some spare pluggable screw terminal plug (8pos) to ease your connectors swapping process.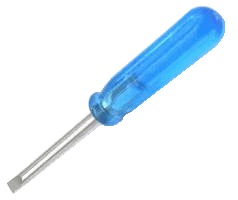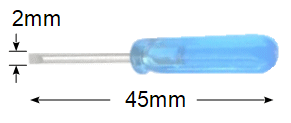 Mini Screw Driver for Plug
Small and handy Phillips head screw driver for the plug. Miniature length of only 45mm, making it easy to keep.
Phillips head size is 2mm.
USB Power Supply (5V, 1A)
Power supply for your cable tester.

USB power is commonly available in our household. This cable tester do not need high power to operate. You can simply plug to any USB socket and it will work.

In case you need one, you can check out this USB power supply to go with the cable tester in your shopping cart.
Works for both 110Vac wall socket, as well as 230Vac wall socket.
---
Buy CCT-01 Cable Tester