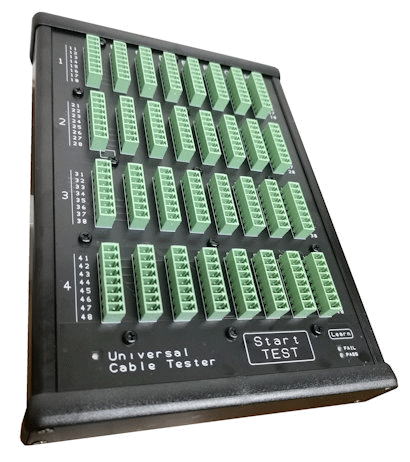 Cable Tester CCT-02 is our version 2 design to handle the testing of a more complex cable connection of up to 256 connection points.
The tester uses a screw terminal to allow operator to use it to test on any cable connectors.
Simple to use.
Quick test button.
External interface allows easy integration to custom as your own unique tester.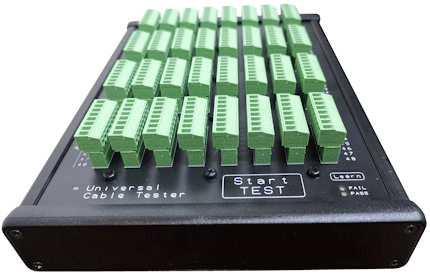 Features
Power up by USB (using type-C socket)
USB thumb drive for test result files storage and loading. (with light indicator)
Spread Sheet report
Buzzer sound and indicator
Testing up to 256 wire points.
Error Indicator mode. 2 mode. (All wire test line, 50% wire test line 50% LED indicator)
Internal mode switch to select sound, and auto-test.
Internal mode switch to enable/disable learn function (prevent overwritten of learned cable)
Internal mode switch to enable/disable program select to learn or load.
Internal mode switch to enable pre-learned mode (IDC header cable testing method). Meaning Port A to Port B must connect. In error indicator mode, adjacent port must connect. Unused pin must be shorted.
QR code operation manual
Allow user to customise connector panel. (Custom connector panel, or using standard screw terminal connector panel)
Interface with external machines, switch, and indicators via I/O port or RS232. (machine communication)
USB Virtual Serial (communication to custom software interfacing)
Button to select program to learn or load. (internal memory. 4 programs with LED indicators)
Display screen for the config file loaded. Up down button
Reverse engineering the wiring connection of any unknown cables.
Size Dimension 220mm x 165mm x 50mm
Weight about 1000g
Accessories
Standard Screw Terminal Connector Mounting Panel
Custom Connector Mounting Panel
Power Supply 5V adaptor
USB Thumb Drive (microSD card)
Spare screw terminal connector
Information for customer
Panel design dimension/drawing (Panel size, housing connector and mounting position) 2.54mm pitch design
Panel component and accessories. (header, screw)
Panel is passive wiring design only. Not meant for electronics
User Interface on standard connector panel
Total 8x inputs, 6x outputs, connection via header as well as via JST ZH connector for side panel User Interface
Test button
Learn button
Pass/Fail LED
4x Master Cable select button (can also act as a switch to auto select base on the panel that is plugged in)
Power 5V Gnd
I2C interface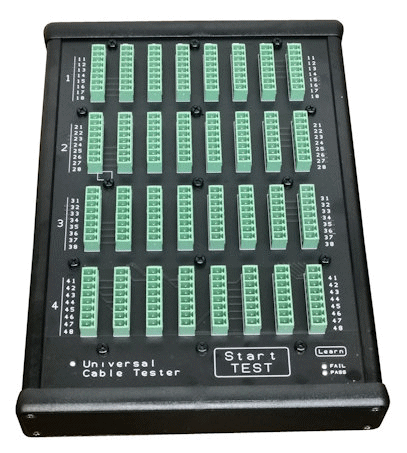 Connector Panel
The top connector panel can be swap to cater for your various cable connectors use. There are 3 main group of panel that you can use for your Cable Tester CCT-02.
Standard Connector Panel
Customised Connector Panel
DIY (Do-It-Yourself) Connector Panel
Standard Connector Panel
We offer a couple of standard connector panel using pluggable screw terminal which allows operator to easily use it to test on any of their cable. Suitable for ad-hoc testing of any cables. A useful general purpose cable tester tool to keep in your workshop.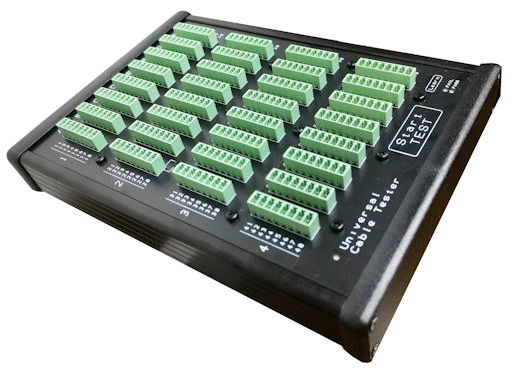 Pluggable Screw Terminal 3.81mm pitch (256 terminal pins)
IDC Flat Ribbon Cable Header panel
RS232 Port D-sub09 connector (male/female), Parallel Port connector panel.
Custom connector panel (drawing fee S$500 (USD350), production cost depends on the connector)
Custom Connector Panel
We are also offering service to custom build a connector panel specially for your cable. This is useful for production use, when you have many of the same type of cable to test. When you need to test another production cable, you can easily swap to another custom connector panel, or change back to our standard connector panel.
DIY (Do-It-Yourself) Connector Panel
The tester board of this CCT-02 Cable Tester is designed with headers (underneath the top panel) at a 2.54mm pitch spacing. This allows you to easily build your own panel from the standard prototyping board that you can purchase from your electronic hardware store, or design and custom made your very own connector panel.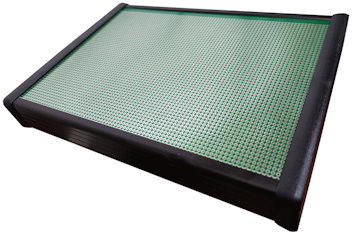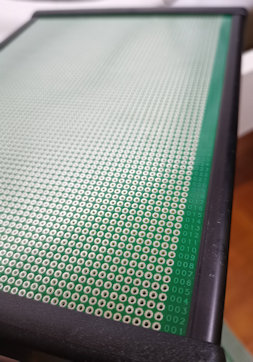 ---
Buy Universal Cable Tester CCT-02
Package Items
What is included in your standard CCT-02 Universal Cable Tester product package?
1x Cable Tester Device
1x USB Type A to USB-C cable (about 300mm)
32x Pluggable Screw Terminal Plug (8p, 3.81mm pitch)
Similar Cable Tester Product
Check out our small size cable tester CCT-01 for testing of up to 64 connections.
Click here to access.