This cable tester CCT-01 can be connected to a computer to generate the test report. It can show you the wrong connections of your cable in a table format.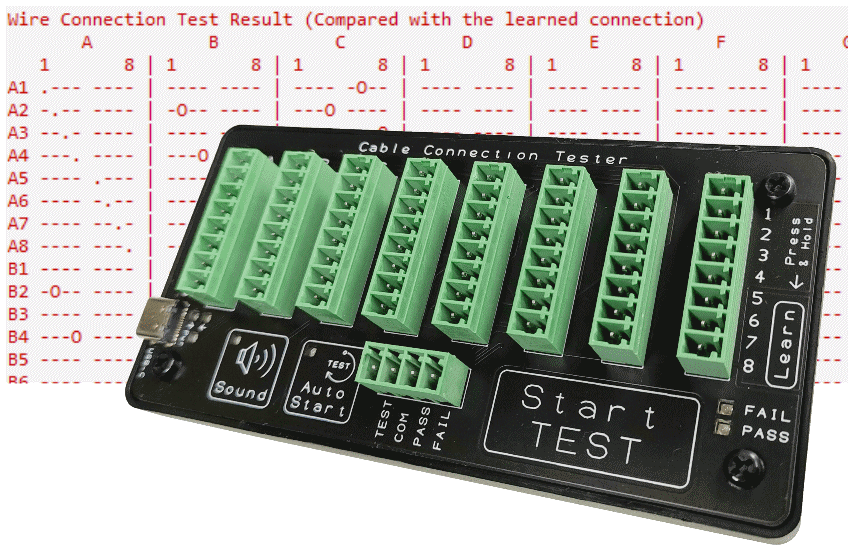 Correct connection -> '

O

'
Incorrect connection -> '

X

'
Missing connection -> '

M

'
In this example, there is a 'O' located at row A1 and column C6. This indicate that there is a connection between A1 and C6 detected and this connection is the same as the cable connection that was learned from the master cable.
An 'X' is located at row B6 and column D1. This indicate that there is a connection between B6 and D1 detected. However, from the master cable learned, there should not be any connection between B6 and D1. Therefore an 'X' symbol is marked in the matrix table.
If an 'M' is found inside this table, it indicate that a connection should be at the matrix position, however no cable connection is detected.
Another feature this tester can do is to scan and maps out the connection of an unknown/undocumented cable. Just setup the connection and a report will be generated showing you how this cable harness is connected internally. Any complex wiring connection mapping can be generated instantly. This reduces your time to reverse engineer the cable manually, and less chance of human error.
A USB connection is required to a computer or mobile device for the display of this report. The tester will be streaming data from the USB virtual serial communication port. The following is the serial communication port settings.
Serial Com Port Settings



Baud Rate: 115200bps
Data Bits: 8 bits
Stop Bits: 1 bit
Parity: None
Hardware Flow Control: None
---
Software Available For Use
To display the report, you can simply download and installed any terminal software that can accept serial communication data. Many of this software are freely available online.
The following are a few of the software that you can use to view the report. You can click on the link which bring you to another page for software download, and further step-by-step instruction guide.
Choose Any One of the FREE console software
Report display on Desktop Computer
Report display on Mobile Phone
Serial USB Terminal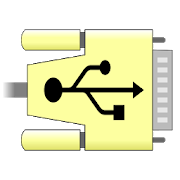 ? Connect to mobile phone to view the report.
(for Andriod phones
connected via a
USB OTG cable)

Available from
Google Play store.
Other software available for the display of the report.
There are many other free available software that you can use on your own platform (Windows, Linux, Apple iOS) for the display on your report.
You can search google for free software that is related to the following keywords like "console", "serial terminal", etc…
More other softwares
CCT-01 – USB Device Software Driver
This CCT-01 Cable Tester do not requires you to install any software driver on your computer system. The tester is designed with a software driver that is commonly pre-installed onto most operating system. Simple to use.
Simply plug in the USB cable-tester to your computer and you can start using the software immediately.
In case you accidentally deleted your USB driver or the tester is unable to work on your system, you may like to try installing the following driver software to see if it works. Please download the relevant software driver for your operating system.
For other type of operating system, you can email us and check with our technical support for further assistance.