Check out why customers are excited about this CCT-01 Cable Tester.
The Ultimate Cable Tester our client has been looking for.
"I've been searching for ultimate cable tester for half a year now and generic D25 testers may be cool but for any custom and single pin to multiple pin relation need too much patching and hacking. Yes, I could design my own solution but yesterday dear Google helped me out and just as I saw it I knew I must ask for additional data ?
Now I got it!" ~ a client from Estonia (Europe)
Multiple Point-to-Point Testing.
While a typical tester allows you to test your cable, not all the testers on the market can perform multiple point to point wiring test. They have constraint in the number of wire circuit that the tester can perform. The wiring also need to be pre-wired to a fixed wire terminal which makes it extremely complex especially for cable with wiring that terminates to the same point.
CCT-01 cable tester has overcome this limitation in the design. The whole cable connection setup is simple. You just need to connect each of your cable wire end to any terminal points on the connector plug of the cable tester. The cable tester will automatically test each individual cable end with the rest of the connected ends. It will then capture the connection of your cable and tabulate into a table map. This map can be generated out as a report for your reference and documentation.
Reverse Engineering Cable Mapping.
With this multi-mapping feature, you can also setup an unknown cable wire connection and let CCT-01 cable-tester maps out all the connections for you. You can then learn the connection from the generated report.
---
A very fine piece of testing unit.
"this one very fine piece of testing unit!" ~ another of our happy client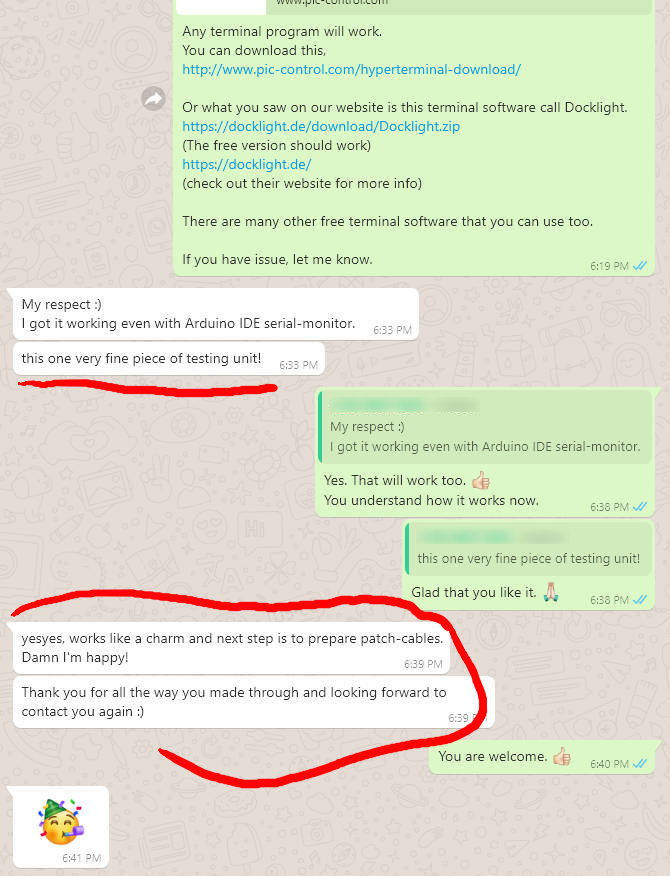 "first let me say : CCT-01 great job :)" ~ words of appreciation from our client 29th May 2020.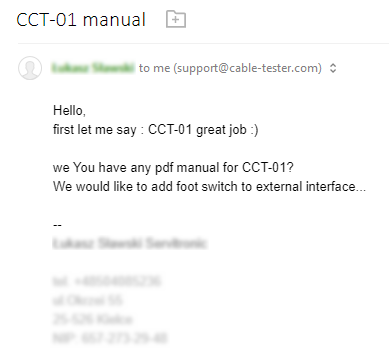 USB Connection Interface.
The CCT-01 cable tester can be connected to a computer via the USB (virtual serial communication).
You can extract the test report using this communication channel. If you want to process the information on this report, you can also connect it as a serial com port and read out the data as bytes for further processing.
Connect to Arduino via Serial COM.
This customer uses Arduino Software (IDE) to connect and read out the report. You can use other freely available serial software to read out the report. You can go to this page to obtain the serial software for your cable tester CCT-01.
---
How a client uses CCT-01 cable tester as their main tester system
"✌️" ~ one happy client who has completed his project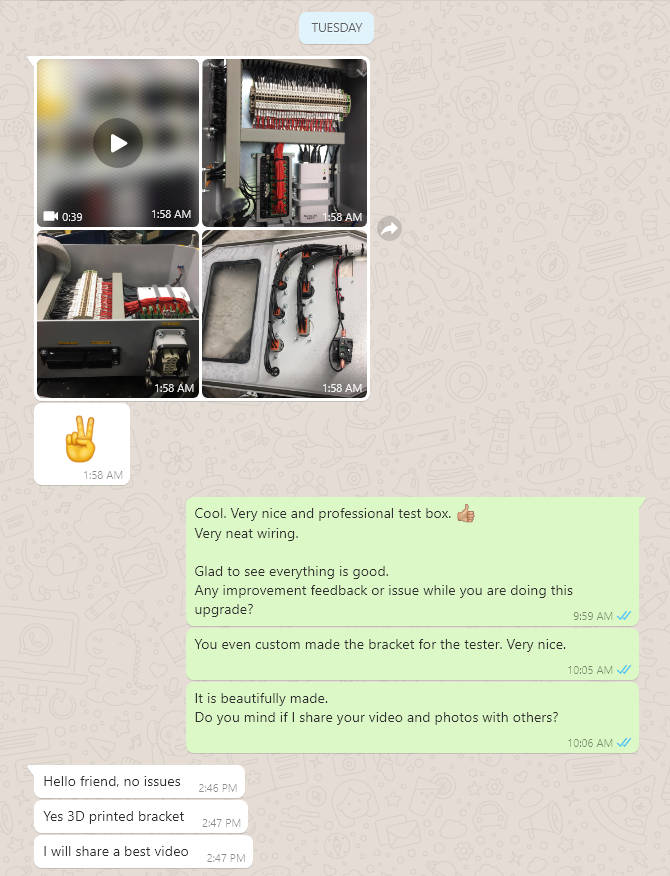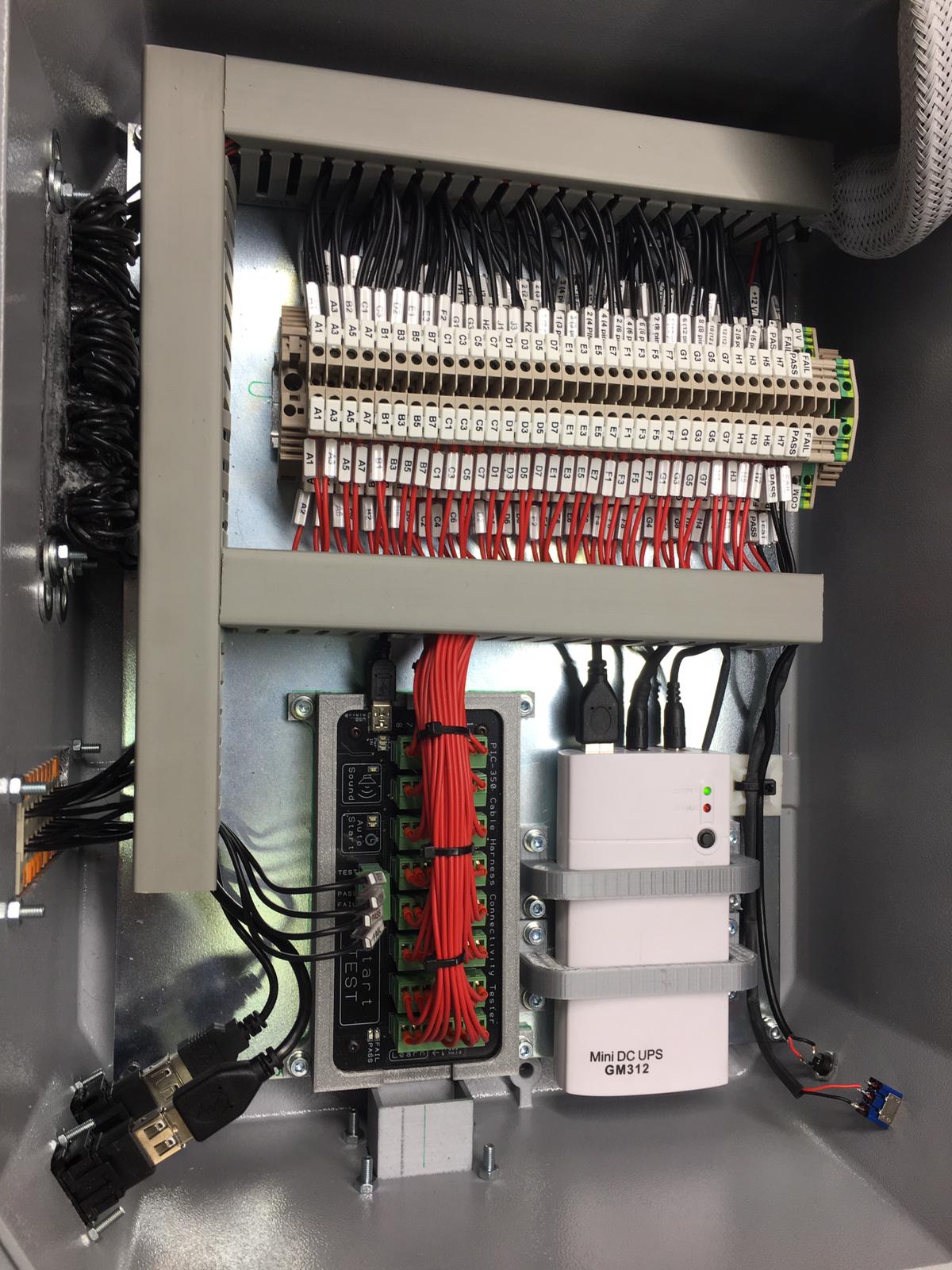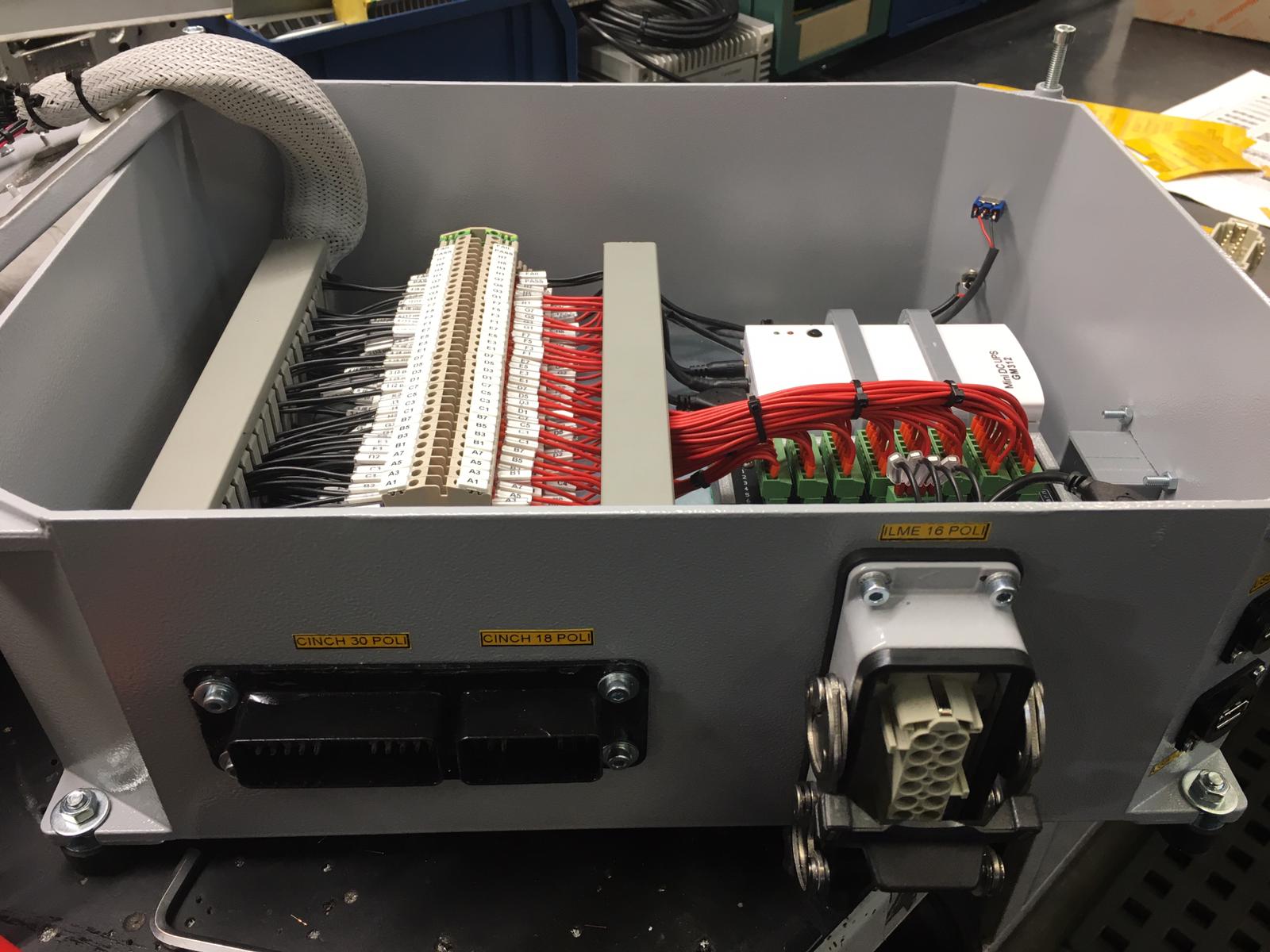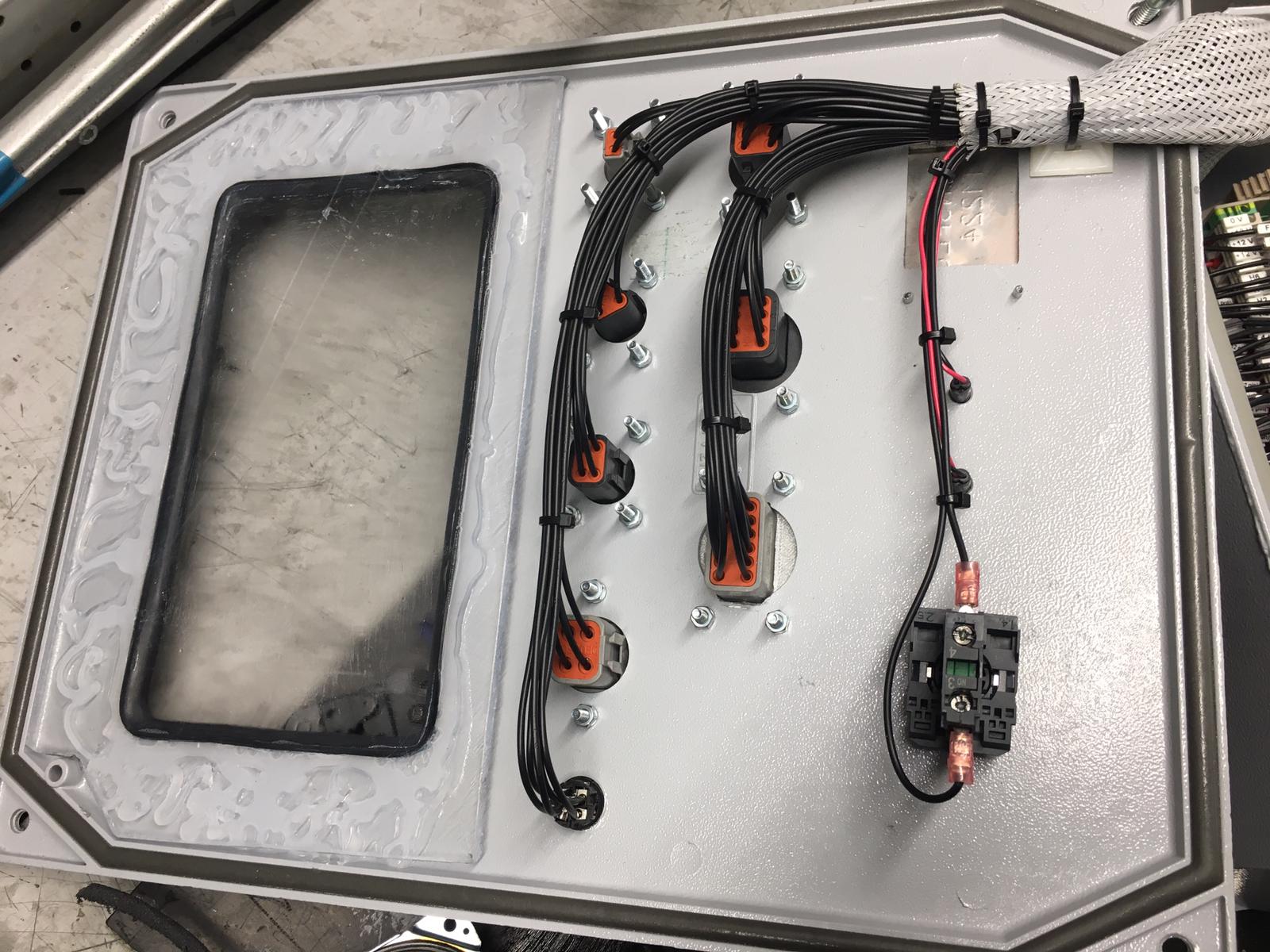 External Interface with other Systems.
The cable tester allows interfacing and be controlled from external system. This means that our client can use this tester and improve it further for their own specific application.
Most of the client uses the external interface to automate their own testing process.
Use Your Own Connector.
CCT-01 cable tester is a highly flexible cable tester. It can be deploy together with other system. You can custom it with your own unique sets of connectors.
Design to be Portable.
It can also be a small and portable standalone tester that you can carry around. You only need a USB plug or a portable power bank to power up the tester. It is a very convenient and handy cable tester.
---
Save us a huge headache
"I'm excited for this product (CCT-01 Cable Tester) as it can save us a huge headache" ~ a client from Canada
Small portable tool on your engineering benchtop.
A handy tool that you can quickly pick up and test or reverse engineer any cables.
Especially useful when you occasionally have different variety of small volume produced cables that you need to check and verify.
Simple to setup and use. So simple that you probably do not even need a manual after using it for the first time.
We have designed our cable tester to be this way.
We do not like user manual.
No headache.
---
Excellent service & technical support for our client
"You have showed me the higher class of cooperation and communication. I thank you for all the effort and I'm sure that the tester will work fine as we both hope.
Thank you and I hope soon I have a reason to order some other goods from you. ?" ~ happy client from our excellent service
A very kind customer giving us his compliment for the service and support to his project success.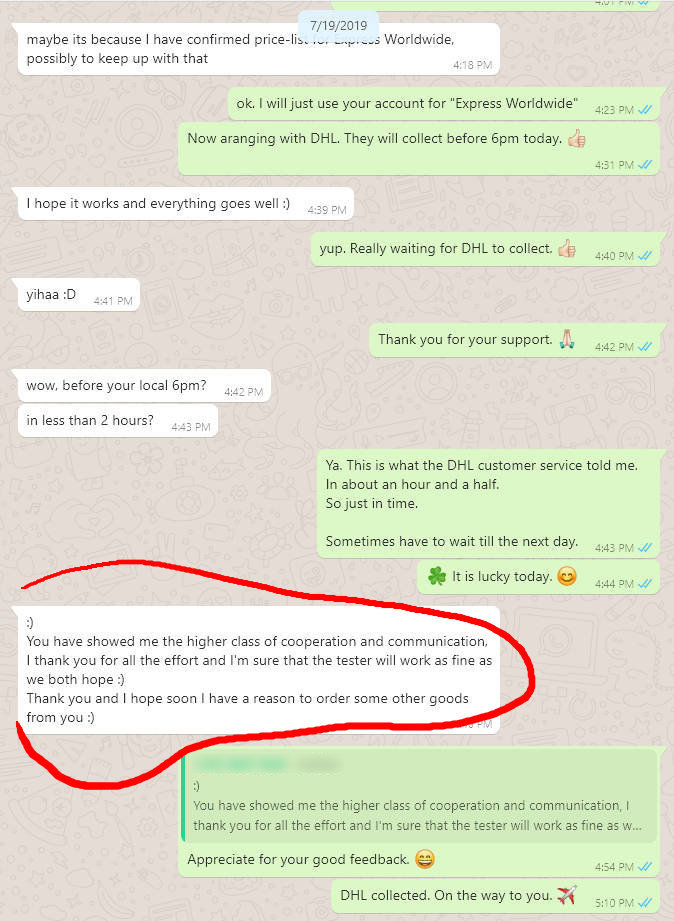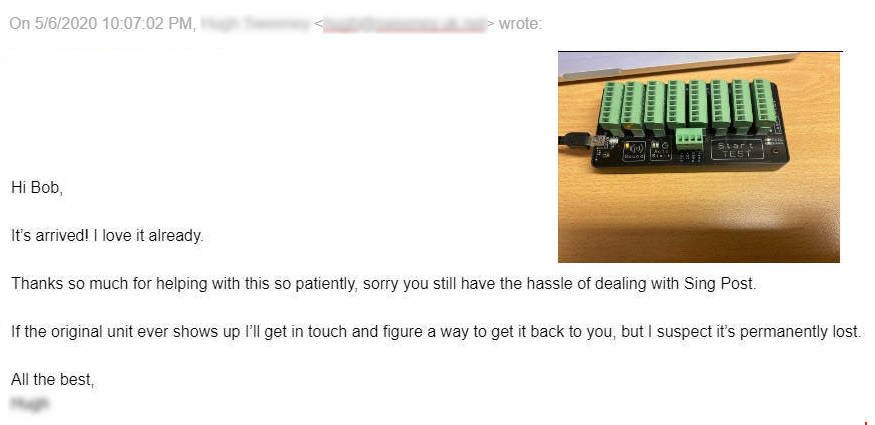 ---