Introduction to MDB
MDB is a communication standard used in the vending machines industry to inter-link numerous devices used in a vending system. It is one of the common standardised vending used around the world today. You can typically find this MDB connector connection in the following type of machines.
Cold/Hot Drinks Vending Machines
Toy Catchers Machines
Coffee Dispenser Machines
Packet Snacks Vending Machines
Hot Food Baking Machines
Another vending standard is VCCS. It is adopted by the vending industry in Japan. Vending machine from Japan manufacturer typically uses VCCS instead of MDB interface standard.
MDB Connector details
Peripheral Connector
Molex Mini-Fit Jr 5569 Series, 6 ways (buy part number: 39-30-1060)
Master (VMC) Connector
Molex Mini-Fit Jr 5557 Series, 6 ways (part number: 39-01-2060)
Molex Insert pins – for 28AWG to 22AWG (part number: 39-00-0209)
Alternative connectors available
ULTICOMP (MC34509)
TE CONNECTIVITY (794954-6, 15
Tools accessories
MOLEX 11-03-0044 Extraction Tool for Mini-Fit Jr Crimp Terminals
MDB Communication Protocol Documentation
Also known as MDB ICP (Multi Drop Bus, Internal Communication Protocol). The following are the detail containing the communication protocol standard used on the MDB connection interface.
Serial Communication Configuration: 9600bps NRZ, 1 Start Bit, 8 Data Bits, 1 Stop Bit, 1 Mode Bit, no hardware handshaking.
The mode bit is a special 9th bit in the communication protocol, acting as a indicator to finish up an on-going communication.
MDB Interface Circuit & Signal
The MDB interface is in a pull-up pull-down voltage and open-collector configuration. This allows interface to other devices without too much affected by the voltage system that the other devices is deployed with.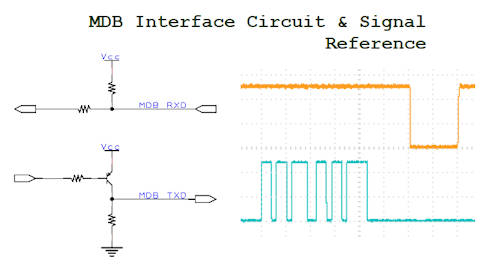 The signalling is pretty similar to the serial communication UART. You can actually implement MDB using the UART from microcontroller. MDB protocol has a mode bit which is using the 9th bit of the UART serial protocol standard.