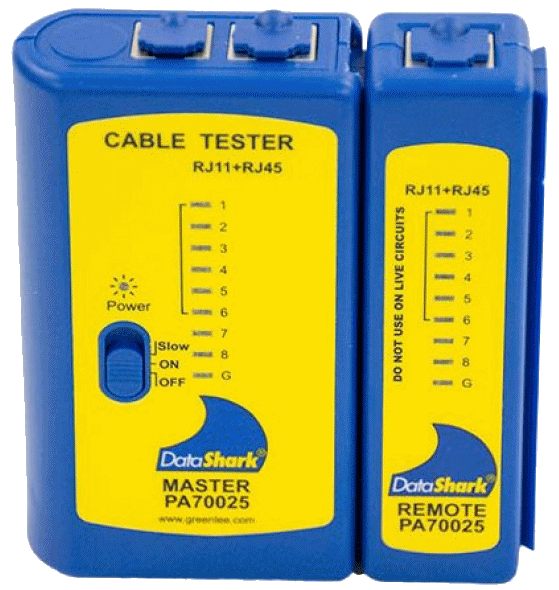 Quick check on your RJ45 cables connectivity using this portable network cable tester.
Instant result. Sort out your faulty cables.
Allows remote testing of the network cables over a long distance.
Features
Consist of a set of main unit and another remote unit.
Immediate test result.
Detects wiring short circuit, open circuit, mis-wiring, reversed and split pair.
Detects cross network cable connection.
LED indicating test result which pins has problem.
Remote testing of cables termination up to 500m away.
Automatically start testing.
Selectable cable scanning speed.
Operates from 2x AAA size battery.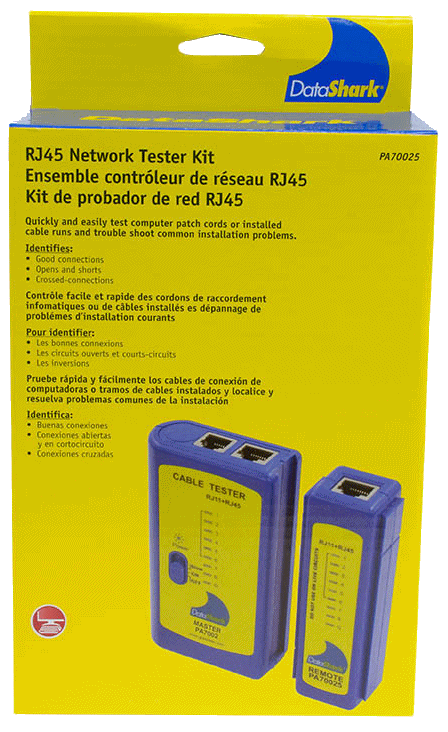 ? Download network cable tester product brochure here. (*.pdf, size 0.6Mbytes)
Contains network cable wiring diagram for your reference.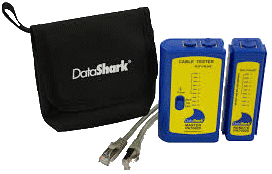 Network cable tester with a nice carrying pouch.
Cable types
RJ45 Ethernet Cat 5 cables
RJ45 Ethernet Cat 5e cables
RJ45 Ethernet Cat 6 cables
RJ45 Ethernet Cat 7 cables
RJ11 6p
RJ45 8p
Specification
Weight 100g (Master unit), 65g (Remote unit)
Dimensions 97 x 58 x 33mm (Master unit), 97 x 58 x 33mm (Remote unit)
Uses 2 x AAA battery cells.
Power consumption is about 10mA.
Battery Life is more than 50 hours
Test for LAN & AV cables