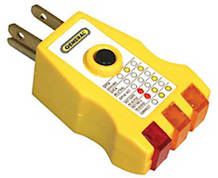 Simple to use, handy 110Vac wall power socket tester to check for your electrical wiring installation. Built-in with a simple to use button for GFCI circuit breaker test.
Features
GFCI Tester for 110–120Vac wall power socket.
Instant lamp indicators for improper electrical wiring from your wall power socket.
Test ground fault isolation breakers.
Test circuit breaker.
Ground leakage fault button (6-7mA) to test GFCI circuit breaker safety installation.
Small, light weight.
Instant Detects Faulty Electrical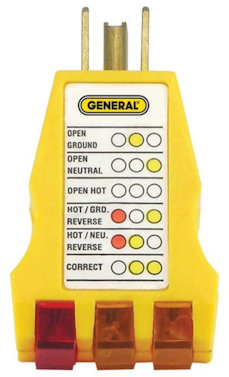 Test Lamp Indicators
O

O

O Open Ground
OO

O

Open Neutral
OOO Open Hot

O

O

O

Hot / Ground reverse connection

O

O

O Hot / Neutral reverse connection
O

OO

Correct Connection