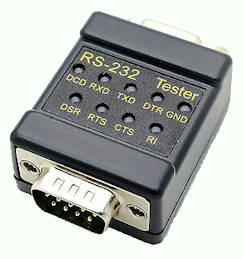 Connect this easy to use RS232 data link tester in between your RS232 data cable, and visually see that data is physically transmitted and received via the RS232 cable.
Features
No power required.
Standard RS232 DTE & DCE interface
DB9 Male to DB9 Female (Dsub 9 pins).
Easy to see 2 color LED indicators.
Green LED is TTL out 1,


Red

LED is TTL out 0.
Click here for more details information of the D-sub connector for RS232 pin out connection.